L'auteur antisioniste-antisémite et partisan de BDS de la nouvelle biographie d'Hillary Clinton refuse de traduire la vie de l'ex-Première Dame en Hébreu!
L'auteur américain Doug Henwood a refusé de vendre les droits de traduction de sa nouvelle biographie sur la candidate à la Présidence des Etats-Unis  Hillary Clinton, intitulée "Mon Tour" (My Turn) à un éditeur israélien, parce qu'il est partisan du mouvement antisioniste-antisémite Boycott, Divestment, and Sanctions (BDS)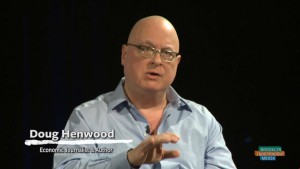 Henwood, journaliste et commentateur économique d'extrême-gauche, au journal The Nation, est intervenu quand son éditeur américain, John Oaks, de la maison d'édition new-yorkaise OR Books, s'est rapproché de l'éditeur israélien Eitan Singer, pour lui offrir les droits de traduire le loivre en Hébreu et de publier le livre d'Henwood,apparemment sans qu'Henwood ne le sache. 
Singer, Directeur de la société d'édition Probooks-Dyonon, a rapidement manifesté son intérêt au rachat des droits de traduction du livre, qui est plutôt critique de Clinton, et tous deux ont abouti à un accord préalable. Cependant, le lendemain, Oaks s'est rétracté, par le biais d'un email d'excuses qui dit : 
"Cher Eitan, je suis bien plus embarrassé que tu ne l'imagine… L'auteur du livre participe au boycott contre Israël au nom des mauvais traitements envers les Palestiniens et, en conséquence il ne veut pas vendre les droits. Mes excuses les plus sincères". 
L'éditeur israélien a été très surpris par un tel refus, considérant que la libre circulation des idées est au coeur de l'industrie de l'édition. "Les Boycotts, faire taire les gens ou refuser de reconnaître des opinions différentes va à l'encontre même de la nature du monde de l'édition.Laliberté d'expression l'emporte sur tout", a tenu à déclarer Singer à Israel Hayom. 
Singer a un peu plus tard expliqué à Breaking Israel News que la façon d'agir d'Henwood n'est pas seulement hypocrite, mais représentative d'une façon de pensée dangereusement sclérosée, en disant : "Dans le domaine de l'édition, la liberté de parole est la valeur la plus hautement appréciée. Par ce boycott de tout hébréophone, cet auteur agit par attitude purement hypocrite. Il exprime lui-même sa vision du monde dans le monde libre, mais empêche les autres de les partager". 
Il ajoute : "C'est la toute première fois que je suis confronté à une telle dangereuse attitude, tout particulièrement de la part d'un citoyen américain".
Ce livre, qui n'a pas encore été diffusé est, d'après le site internet de l'éditeur : "une inculpation dévastatrice" de l'inconsistance de ses promesses de campagne, montrant "A quel point les positions de Clinton sur les questions essentielles ont toujours flirté avec le vent de l'opportunisme, bien que tournant en général autour de l'axe du moralisme et du bellicisme".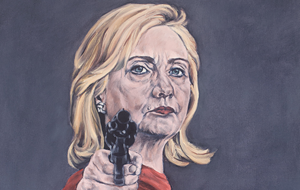 La couverture est une illustration inquiétante de Clinton pointant un pistolet sur le lecteur et  légendée par le sous-titre : "Hillary vise la Présidence".

Source :  breakingisraelnews.com
Adaptation : Marc Brzustowski